"Last Days of Summer" artwork, credits and lyrics (scroll down for "Everyday Street")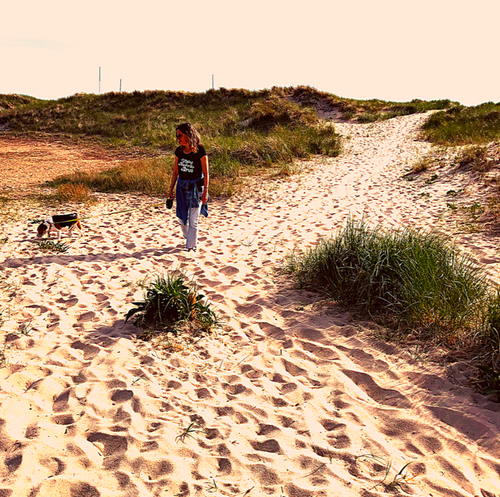 CREDITS 
Lucy: acoustic guitar, piano, harmony 
Duke Levine: acoustic and electric guitars, baritone electric guitar, National guitar, mandola, mandolin 
Mike Rivard: bass 
Ben Wittman: drums and percussion, harmonium 
Richard Shindell: harmony 
John Gorka: harmony 
Engineered, mixed and mastered by Chris Rival at Middleville Studio, 
North Reading, MA 
Ben's drums and harmonium recorded at Wittman Studio, Toronto 
Photos: front cover by Beowulf Sheehan 
All other photos by Lucy K. and Rick Litvin 
CD design by Lucy 
Thank you: Rick and Molly Litvin, Steve Lurie, Duke, Mike, Ben and Chris, and all my Patrons 
Songs by Lucy Kaplansky and Richard Litvin,  ASCAP, administered by BMG, except:  
"These Days" by Jackson Browne, Open window Music, ASCAP;                                                                                                                                                                                        "Ford Econoline" by Nanci Griffith, Irving Music, BMI ;
 "These Boots Are Made For Walkin'" by Lee Hazlewood, Criterion Music Corp, ASCAP;                                                                                                                         
"Gold Watch and Chain" by A.P. Carter, APRS, BMI 
Follow lucy on Facebook, Instagram and Twitter www.lucykaplansky.com 
c. 2022 Lucyricky records
LYRICS FOR ORIGINAL SONGS (ALL SONGS BY LUCY KAPLANSKY AND RICK LITVIN) 
LAST DAYS OF SUMMER 
Last days of summer are coming on fast
Was hoping August wouldn't end, but it never lasts
She's filling boxes with blankets books and clothes 
No longer a child, unafraid ready to go 
It's been 18 years since we fixed up that empty room 
Pale yellow walls, pretty white crib, she'd be lying there soon 
Then a bigger bed, games of pretend and books and friends 
Come September gonna be empty again 
CHORUS: 
After 18 years, how can it be just one week more 
Till we carry those boxes to her new room on the seventh floor 
Across from the park where she played pretend, climbed and dreamed 
Where she flew high on the swings 
Now she's gonna fly on her own wings 
No longer pretending with her brand new dreams 
I remember the day I told my mom I wanna sing 
She said don't be be a fool for a little girl dream 
So I packed my things, looked back once, never did again
Afraid and defiant, was just 18 then 
 
I know she'll come back but never always again 
That's just as it should be and how it's ever been 
But I'll miss that girl in her room, safe and mine 
Life is a circle strewn with goodbyes 
CHORUS: 
After 18 years, how can it be just one week more 
Till we carry those boxes to her new room on the seventh floor 
Across from the park where she played pretend, climbed and dreamed 
Where she flew high on the swings 
Now she's gonna fly on her own wings 
No longer pretending with her very own dreams 
Just down the street and a million miles away 
Hope her bed is soft enough, hope at night she's not afraid 
And I hope her friends will be caring and kind 
She's gonna make her choices just as I made mine 
Last days of summer are coming on fast 
Was hoping august wouldn't end but it never lasts 
Come September we'll be two no longer three 
Back where we started, back around that circle darling, you and me 
MARY'S WINDOW 
Mary's looking out at the empty streets of her town 
February morning, rain's falling down 
She's missing the greetings and small talk there 
At the library, grocery store, village square 
Has the baby started crawling, I like your hair that way 
How's your mother feeling, sure is cold out today 
That quiet cadence, the refrain of a town 
With the cashier, manager, librarian 
The sound of goodwill, kindness and care 
And Mary knows she'll always belong there 
CHORUS: 
But now this country of hers has been ravaged and cleaved 
By all this sickness and hatred and bigotry 
Fueled by the lies of the fools who would lead 
Lies told for power malice and greed 
But this old woman's seen troubled times before 
When the people rose up to shine a light once more 
So in spite of her fears she'd play her part again 
Band together with young and old, women and men 
And on the third of November she stood in that line
With the manager, cashier, librarian beside 
CHORUS: 
And their voices of good will a mighty sound made 
And the cadence of towns was a nation's refrain 
And truth and hope drowned out lies and hate 
From cities to farms, from oceans to lakes 
And then from deepest Georgia that same refrain 
And then a man of good will and kindness and care 
Placed a hand on a bible and the other in the air 
And that cadence infused every word he did say 
And a nation heard and rejoiced that day 
They'd put differences aside 
Reach out to each other 
Lend a hand when it's needed 
To their sisters and brothers 
Return to the hard work of trying to be 
The people and the nation they still could be 
Still could be 
Mary's looking out at the rain coming down 
But it's a rain of renewal washing over them now 
She's knitting a hat for that baby in town 
That pretty cashier's baby, it won't be long now 
Till she can hand it to her mother over in town 
Oh the goodness of people can't be put down 
It just keeps on, 
The sound of kindness 
It just keeps on 
Can't be silenced 
It just keeps on 
SONG OF THE EXILED 
New york 1995 
By the Highline way downtown 
The trains up there made this city run 
Giuliani's gonna tear it all down 
It was cold so I grabbed a yellow cab 
Driver was a tiny old man 
Leather jacket, newsboy cap 
Pall mall smoking on the dash 
A motorcycle went flying by 
He said he's crazy it's too cold to ride 
I used to be crazy, I raced bikes 
in Hungary in '35 
Must have broken every bone 
Even broke some twice 
We shared a smile and I said 
You're lucky you're alive 
Then his smile disappeared  
Like the fading of a light 
I was in the camps you know 
Just a few of us survived 
Lucky to be alive 
CHORUS: 
I've seen New York's treasures celebrated and renowned 
And also those not made of stone or steel 
The stories of my town 
Like the song of the exiled, the men who drive the cabs 
As they live the story of our city and the promise of our flag 
I grabbed a taxi the other day 
I said Newark terminal C 
Driver had a Chinese name
In broken English said to me
 
You musician, I said yes I am 
He said my son plays violin 
I said where in China are you from 
And how's this country been ?
He said I come from Chongqing 
I've been here 15 years 
I was a miner there and very poor 
I am lucky to be here 
My son he studies hard in school 
He'll get a Phd 
Or maybe be a doctor 
He won't drive a cab like me 
Won't drive a cab like me 
CHORUS 
We're passing by the Highline 
You know it never was torn down 
Now there's acres of shimmering glass and steel 
Another jewel in the city's crown 
I think about my forbearers 
My Chinese daughter too 
Amazed that I'm so lucky 
Get to live the life I do 
Get to live the life I do 
I cannot share my luck with him 
So I smile and thank him again 
He drives off to the taxi line 
With the other exiled men 
To make this city run again
INDEPENDENCE DAY 
I've been obligated to another soiree in that bland suburban town 
There's the prince with his loyal subjects, everybody's drinking bowing down 
Now he's bear hugging that tedious cousin while looking right past me 
'Cause I didn't like the way he spoke to me back in 2013 
And per usual like I'm invisible or dead the festivities proceed 
I watch him vilify me sotto voce while they nod empathetically 
Treading so carefully for fear of his legendary rage 
And I'm the one that's sacrificed that's fine, it's all okay 

For years I bought the myth of the happy family 
But it's a house of venom, lies and complicity 
CHORUS: 
This is where it ends, this is where it ends
Not setting foot in that house again 
This is where it ends 
I always did as I was told, took the blows, never did let on 
So well behaved watched what I'd say like nothing could be wrong 
Such a worthless expertise you twist and strangle all the time 
Walking around with two black eyes like everything is fine 
Always polite, never fight 
Till one day I started to ignite 
Like a supernova gonna burn that house down 
CHORUS 
We can't choose how we come into this world 
But we can choose who we're gonna be and what we're gonna be
 
Another summons to a family affair this time fourth of July 
I've been invited to appear but I've resolutely declined 
I've made my own family, people who I want to see 
We practice kindness and loyalty and love and care and honesty 

Gonna watch the fireworks here today 
It's my world now and here I'll stay 
It's independence day 
CHORUS 
REQUIEM 
I'm driving back to that seaside town, first time since you've gone 
We used to drive up here together singing Beatles songs 
Snow is falling, John Lennon's singing hide your love away 
I turn it off, don't want to hear John's lonely words today 
In town I see you everywhere and then you slip away 
Like the colors that you took with you when you left that day 
Now you're laughing telling stories near that little shack on the pier 
But it's boarded up, I turn away from there 
CHORUS: 
I used to believe in so many things 
And that love is stronger than anything 
You left in darkest winter, didn't think that it would end 
And we must stay without you, can spring ever come again 
Then here along this snowy beach road, desolate and grey 
The first bluebells, blue like your eyes, greet me today 
I'm back here at the beach and you're laughing in the waves 
Oh to be back there now when I thought I could keep you safe 
Then the sun goes down and here they are the colors you stole away 
In the blue green sea your laughter in the crimson sun your face 
In a thousand years you'll still be here, in these clouds this sand, this sky these waves 
CHORUS
The stars cascade above me on the road as i drive home 
Paul comes on singing Yesterday and I try to sing along 
In a thousand years I won't be here, just this broken hearted song 
And though my love was not enough to keep you here for very long 
I know that you can hear me cause my love is just that strong 
My love is just that strong 
ELMHURST QUEENS MOTHER'S DAY 
Sun is coming up over the bay 
Everywhere everything has changed 
The only sound is wind in the trees, New York City's far from me 
Sun is coming up over the bay 
Friends back home tell me nothing is the same 
That city symphony just stopped that day 
The crowds, the life, the energy 
Are just sirens now through empty streets 
My silenced hurting city far away 
These days there is no work for me 
And I don't know if there will ever be 
As remote lives keep moving on, I sit down to write this song 
In this refuge from that storm far away 
CHORUS: 
And It's far away, far from me, far away from me 
Then I read about a nurse's day in Queens 
In cotton scrubs she is the infantry 
Trenches painted in fluorescent light 
Weaponless soldiers in the fight 
I read about a nurse's day in Queens 
She's wearing the only mask that she can find 
She knows that they will all get sick in time 
She's telling the writer all the things they need, with the president lying on tv
Her oath was not for her family to die 
Endless lines of those who won't be saved 
Dying in plastic chairs as they wait 
When she gets home won't hug her kids 
Writes her will like her friends all did 
Falls asleep in her living room chair again 
I'm making dinner, sun is going down 
Sun will be setting over New York town 
They'll be cheering soon on my empty street 
A brief reprise of that symphony 
In the city where I became a wife 
Where my mother was born, where I've made my life 
And though i wont be there to cheer along 
Oh I can sing this song 
For that nurse, and for my city, my home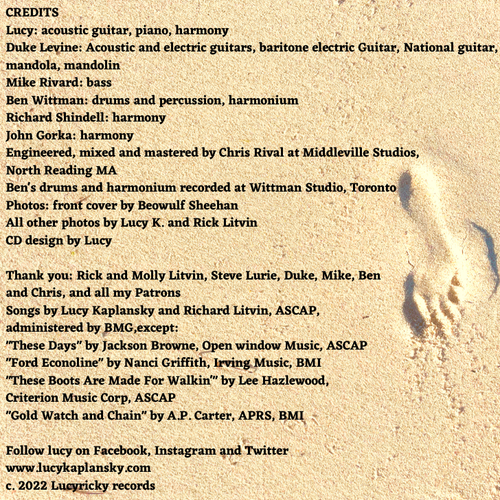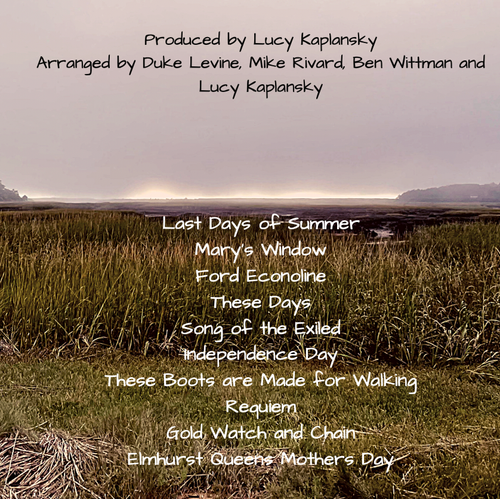 "Everyday Street" artwork, credits and lyrics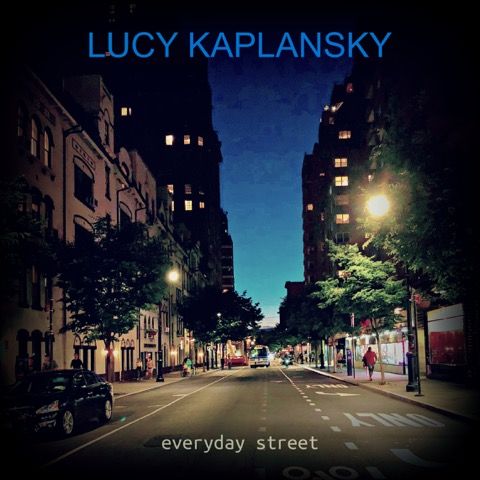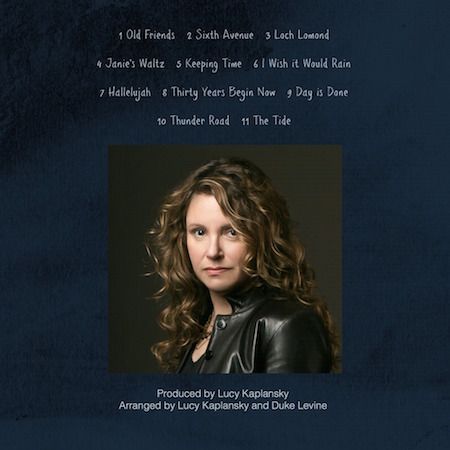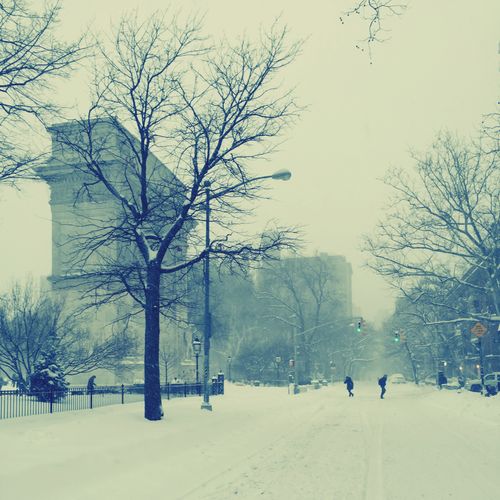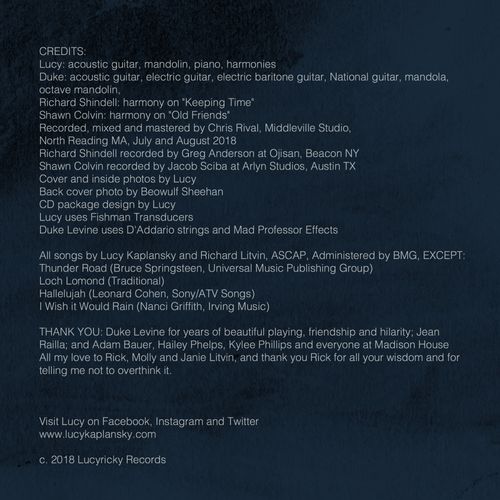 CREDITS
Produced by Lucy Kaplansky 
Arranged by Lucy Kaplansky and Duke Levine 
Lucy: acoustic guitar, mandolin, harmonies 
Duke: acoustic guitar, electric guitar, electric baritone guitar, National guitar, mandola, octave mandolin 
Shawn Colvin: harmony on "Old Friends" 
Richard Shindell: harmony on "Keeping Time" 
Recorded, mixed and mastered by Chris Rival, Middleville Studio, North Reading MA, July and August 2018 
Richard Shindell recorded by Greg Anderson, Ojisan, Beacon NY 
Shawn Colvin recorded by Jacob Sciba at Arlyn Studios, Austin TX 
Cover and inside photos by Lucy 
Back cover photo by Beowulf Sheehan 
CD package design by Lucy 
Lucy uses Fishman Transducers 
Duke uses D'Addario Strings and Mad Professor Effects 
All songs by Lucy Kaplansky and Richard Litvin, Lucyricky Music, ASCAP, Administered by BMG EXCEPT: 
Loch Lomond (traditional) 
I Wish it Would Rain (Nanci Griffith, Irving Music) Hallelujah (Leonard Cohen, Sony/ATV Songs 
Thunder Road (Bruce Springsteen, Universal Music Publishing Group) 
THANK YOU: Duke Levine for all the years of beautiful playing, friendship and hilarity; Jean Railla; and Adam Bauer, Hailey Phelps, Kylee Phillips, and everyone at Madison House. 
All my love to Rick, Molly and Janie Litvin, and thank you Rick for all your wisdom and for telling me not to over-think this. 
LYRICS FOR ORIGINAL SONGS (ALL SONGS BY LUCY KAPLANSKY AND RICHARD LITVIN)
OLD FRIENDS
I've got a picture of you and me 
From maybe 1982 
You were 27 
I was almost 22 
We're singing with somebody 
Who isn't in the frame 
Smiling at each other 
Matching every phrase 
Suspending notes that don't belong 
Seconds and sixths whatever we want 
And it feels like flying 
Always landing somewhere new 
Weaving a shared tapestry 
That's what you and I do 
I was working the bar at open mike 
The night you came to town 
I'd heard about a girl 
Better than anyone around 
I got up and sang a tune 
While Robbie watched the bar 
Then the whole place got quiet 
For your voice and your guitar 
I remember us sitting on the floor 
Singing every song we knew 
Richard and Linda Thompson 
Gram and Emmylou 
We could tell each other everything 
And we still do 
Keeping our shared secrets 
That's what good friends do 
And if I'd never met you 
So much I never would have done 
All those gigs you got me 
All those great country songs 
The record we made 
Gave me this path I'm on 
The way you showed all the guys 
A girl could sing and write a song 
And as it sometimes goes 
We went separate ways 
Who was right and who was wrong 
Neither one of us can say 
And it doesn't matter now 
It was so long ago 
Like water under the bridge 
Life flows where it must go 
So here we are in your hotel room 
Singing Gram and Emmylou 
20 years 20,000 roads 
Have brought me back to you 
Older a little wiser 
Than back in 1982 
Sharing a history 
That's what old friends do 
SIXTH AVENUE
Was 10 years ago you were up all night 
I was begging you to sleep 
Sitting up in bed, wouldn't shut your eyes 
And you've still got that over me 
Your first birthday, just your dad and me 
Little face covered in ice cream 
We made a wish for you, blew your candle out 
Thought that baby you'd always be, 
Thought that baby you'd always be 
CHORUS 
Oh was ten years ago 
We'll turn around and you'll be grown 
Oh one day you'll be on your own 
You're gonna let us go 
There's a picture, red star on your shirt 
You're taking your first steps 
I'm behind you, I'm reaching out 
You're smiling and not looking back 
Many have said you're an old soul 
Wise beyond your time 
You'll walk alone for what is right 
You choose kindness every time 
CHORUS 
We always tell you when you're older 
You say that won't cut it anymore 
Begging to get a slice with your friends 
Alone with them, your own money to spend 
So I let you cross Sixth Avenue 
Soon the crowd is all I see 
I keep on looking, I can't let go 
And I know you're not looking for me Just how it's supposed to be 
11th birthday's coming soon 
Me and dad, your friends and you 
When you blow your candles out 
What you wish for it's up to you 
JANIE'S WALTZ
I gaze in wonder as you stir from sleep 
I whisper your name and you come to me 
I kiss your head and breathe you in 
So glad as another day begins 
We head out for a walk on our everyday street 
We can get to the park across Waverly 
But each flower each leaf is calling to you 
Every day I discover the world with you 
CHORUS 
We've got nowhere to go and no one to meet 
I'll follow you wherever you lead 
Oh on our everyday everyday street 
Amazed by a tiny blowing leaf 
You have to chase it and pull away from me 
Snow is left from that storm last week 
So many treasures buried underneath 
A man walks by in a tall fur hat 
You look up at him and you stop in your tracks 
Bravely you approach, keeping close to me 
You just have to find out just what he could be 
CHORUS 
I used to live stuck inside 
Worrying about nothing, watching time go by 
But when we're walking you and me 
I'm not worried about anything 
Oh a child will grow and a child will leave 
But years from now right here we'll be 
So glad for another day on our everyday Street 
KEEPING TIME
I take walks in the mornings 
When my kid's gone to school 
I see parents walking children 
Like we used to do 
In the mornings for years 
We headed down that same street 
I'd see you and your strawberry blond family 
I'd see you scruffy and smiling 
After school in the yard 
Or the park on Horatio 
Where the kids played till dark 
Or Sunday morning Little league 
On the chilly Hudson Pier 
Just the movie star father 
Freezing with us in the April air 
In the bright morning sun 
Or late afternoon glow 
We kept time with the rhythms 
Mothers and fathers know 
A February morning 
The news was on 
I froze when I heard your name 
Our neighborhood king was gone 
You'd been chasing the dragon 
Needle still in your skin 
Ace of Spades all around you 
Aces always win 
After 23 years 
The great actor of our day 
After 10 years of fatherhood 
It took you just the same 
For the kill that lies in wait 
Like the cruelest undertow 
Is stronger than all a man builds and loves 
And dreams and knows 
And I'll see you again 
Up on that screen 
But I'll remember you best 
On our neighborhood streets 
In your baseball cap and jeans 
Kids and stroller in tow 
Amid the flowers of spring 
Or January snow 
Keeping time with the rhythms 
Mothers and fathers know 
Four winters come and gone 
Spring is here again 
I saw your kids the other day 
An old woman with them 
And a chill went through me 
When I looked into her face 
She was the picture of you 
Just wizened with age 
And all at once I knew 
Something sorrowful and true 
She was walking with them 
Still keeping time with you Cause the rhythms just go on 
And will go on without you 

THIRTY YEARS BEGIN NOW
30 years have passed and we're here again 
In your childhood yard, at childhood's end 
We the branches we the leaves 
We that remain of our families 
It was over here we planted a tree 
A promise of our life to be 
So we stood beneath an antique quilt 
Our multithreaded canopy 
EE Cummings words were read 
I thank you god for this amazing day 
for the leaping greenly spirits of trees 
Inside behind my eyes I prayed 
CHORUS 
Here we stand again 
On this changing ground 
As 30 years end 
30 years begin now 
Then I sang with the band Embraceable You 
And all the longing of Someday Soon 
And all I'd longed for was coming true 
Down the toughest road I would follow you 
The last song was Ashokan Farewell 
I took off my shoes and danced with you 
To that sad bluegrass melody 
Old things end with something new 
We drove again our open road 
And nothing was the same 
On my hand was your gold ring 
In my heart a promise I'd never break 
CHORUS 
Oh this is living ground 
And only this moment matters now 
And what I feel for you today 
And the spirit of trees 
And the promise I made 
CHORUS 
DAY IS DONE
Good night my darling 
And goodbye to the day 
Good night my darling 
And goodbye to the day 
I'm leaving in the morning 
Be gone when you awake 
it hurts you and it hurts me too 
I wish that I could stay 
You want time to keep moving on 
Can't wait to be all grown 
You want time to keep moving on 
I wish it would all slow down 
Funny how I used to think 
The day would never end 
Now I watch the years go by 
And I can't get them back again 
CHORUS 
Day is done 
Gone the sun 
But not for long not for long 
Day is done gone the sun 
But not for long my darling one 
I went searching 
For that place where I belong 
I went searching 
Wound up back where I started from 
Should have listened to that voice 
That was in me all along 
Sometimes what you're looking for 
It isn't really gone 
Oh my darling now it's time to say goodbye 
Oh my darling, sometimes I can't remember why 
There's just this part of me I lost 
But I got it back again 
I hold it close as I hold you both, 
I hope you understand 
CHORUS 
THE TIDE
There are demons in the water 
There are devils in the sea 
There are dangers in the current 
When the tide goes out of me 
I could drink you under the table 
I could drink you out of town 
I could drink you off the planet 
Drink myself into the ground 
CHORUS 
And I have nothing for you tonight 
I have nothing for you tonight 
I have nothing for you tonight 
I have nothing for you 
I was made to be a good girl 
Carried buckets made of stone 
Full of envy, full of sorrow 
On a tightrope all alone 
And all the time I was on fire 
I burned with every stride 
And now I see this anger 
Is the horse I choose to ride 
Now you say you want something nice from me 
Well if you find it, take it, it's on me 
In the meantime don't bother me 
The tide has washed the nice from me 
CHORUS 
In nothing are the voices 
And the pictures of my life 
In the nothing of the sky 
Is an ocean made of light 
In the nothing of my silence 
Is a sad-eyed little girl 
On a tightrope she is singing 
As she passes through this world 
CHORUS